OrthoUnited is highly regarded as one of Northeast Ohio's largest and most experienced orthopaedic centers. While this distinction sets us apart, above all we take great pride in being able to successfully serve a community we care about.
Looking back on 2020, it's easy to pinpoint the challenges we faced, but we're thrilled to say there has been a long list of highlights and accomplishments along the way as well. Taking time to reflect with gratitude gives us an inspiring perspective on what's possible in 2021, with the ultimate goal of helping more and more patients get back to living their best lives.
We Reached the Milestone of 20,000 Outpatient Procedures Performed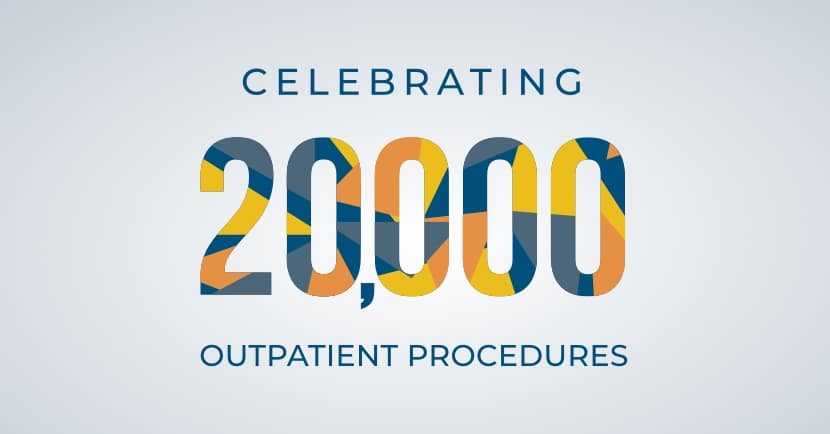 The OrthoUnited surgical center by Ohio Specialty Surgical Suites (OS3) was completed and open for business in 2013, and our first surgery in the facility was in 2014. Since that time, OS3 has consistently offered outpatient care at an incredible average rate of 325 procedures per month.
In October 2020, we were proud to reach the exciting milestone of 20,000 outpatient procedures performed! This incredible number was proudly achieved at the hands of our 12 exceptional surgeons who each bring their own unique experience and specialized knowledge to the table.
We Focused on Technological Advancement
In 2020, we welcomed a new addition to our roster of robotic technology with the ROSA® Knee System. This innovative technology pairs exceptionally well with the skills possessed by our world-class surgeons. It's truly a game-changer for patients requiring a total knee replacement.
The ROSA Knee System is giving our surgeons options to create an even more precise knee implant fit and surgical experience. Enhanced data collection capabilities, 3D modeling, and increased surgical assistance help our patients receive the world-class results they deserve.
Simultaneously, the NAVIO™ Surgical System continues to deliver top-tier results on behalf of patients looking at both partial and full knee replacement surgery options. The combination of precision targeting with this technology paired with real-time imaging makes it an integral part of our doctors' surgical success.
We Welcomed Talented Professionals to Our Staff
This past year saw OrthoUnited' staff grow in numbers and expertise with the addition of Amardeep S. Chauhan, DO and Hannah Stryker, MSPAS, PA-C to our team. Both bring a wealth of knowledge to our practice as well as experiences that will benefit every patient under their care.
Dr. Chauhan is a member of the American Academy of Physical Medicine and Rehabilitation as well as a diplomat for the National Board of Osteopathic Medicine and Surgery. He has extensive experience in musculoskeletal physiatry as well as spinal intervention.
Dr. Stryker is a member of the Ohio Association of Physicians Assistants as well as a member of the American Academy of Physicians Assistants. She brings experience in internal medicine, general surgery, women's health, primary care, emergency medicine, and orthopaedic surgery.
Better Times to Come in 2021
It's fair to say that 2020 was difficult, but at OrthoUnited, we're counting all of our wins and have headed into 2021 feeling strong. We look forward to continuing to serve our patients with the utmost dedication, care, and expertise. If 2021 is the year you're ready to make a change, contact us today to schedule a consultation.
What Our Customers Are Saying
"Top shelf services. Traveled over an hour one way based on a reference from a friend. Worth every minute. Great Doctors and staff."
—Chuck C.
"OrthoUnited was extremely accommodating. The procedure was explained before the surgery, and after, the staff explained what had been done. They let me know what I also needed to do to help me to recover in the best way. I wouldn't have had better care anywhere else."
—Rebecca F.
You have one life to live. Let's get you back to living it!