NAVIO Partial Knee Replacement
The NAVIO Surgical System uses robotics-assisted technology to help tailor partial knee replacement procedures to the unique shape and motion of each patient's knee anatomy.
For people suffering from knee pain caused by osteoarthritis, whose damage is limited to a single compartment or area of the knee, partial knee replacement may be an option because it preserves healthy bone and ligaments while replacing the damaged area.1, 2 The NAVIO Surgical System uses robotics-assisted technology to help tailor partial knee replacement procedures to the unique shape and motion of each patient's knee anatomy.
Request An Appointment
Get in touch with OrthoUnited to start your journey toward recovery.
Get Expert Care
Robotics-assisted planning for better surgical outcome
While it may seem counterintuitive, replacing only part of a knee joint can be more challenging than replacing the entire joint. This is because partial knee replacement must achieve an exact balance between the new implant - made of metal and plastic components - and the remaining portions of your natural anatomy made of bone and cartilage. As a result, one of the primary challenges of all partial knee replacements is precisely positioning the implant for each unique patient. Even minor changes in an implant's size or placement can cause the knee to function poorly or result in early failure of the implant and the need for future surgery.

The NAVIO Surgical System addresses the challenge of partial knee replacement by using both computer and robotic assistance to accurately map the surface of your knee, align your implant to your anatomy, and physically remove the bone necessary to place your new implant. 3 This added level of assistance is important because implant alignment is a crucial factor in determining how long the implant will last. 5, 6
Robotic knee surgery without radiation
Other robotic knee replacement systems use computerized tomography, or CT, scans to help a surgeon visualize a patient's knee anatomy. While CT scans are effective at showing the layers of knee anatomy, they can expose the patient to potentially harmful radiation. In fact, a single CT scan is equivalent to the radiation exposure received in 48 chest X-rays.4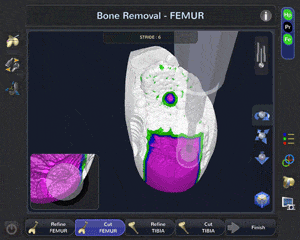 The NAVIO system eliminates the need for CT scans by using an advanced computer program (similar to GPS navigation on your phone) to collect anatomic and alignment information about your knee. Once captured, this information is used to build a precise, computer-rendered 3D model of your knee that your surgeon will use to plan your surgery.
NAVIO Robotics-assisted partial knee replacement surgery
After all of the information about your knee is gathered and your surgical plan is created, your surgeon will use a robotics-assisted surgical tool (the NAVIO handpiece) to physically remove the damaged surface of your bone so that your new implant fits properly. Using the same 3D model of your knee, the handpiece is able to differentiate between the damaged areas that need to be removed, and the healthy areas that will remain. The NAVIO handpiece uses a burr that removes damaged bone for your implant.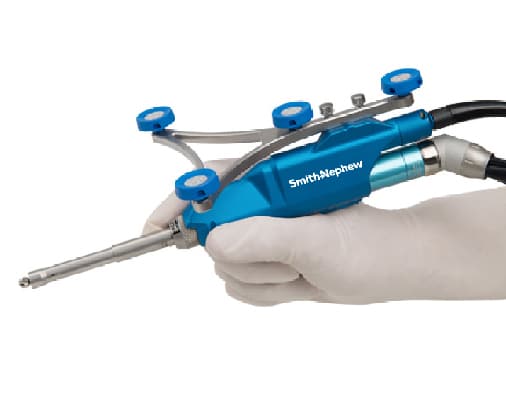 The NAVIO system doesn't replace your surgeon. Rather, it assists your surgeon by adding an extra layer of planning to the procedure.
Partial knee replacement with traditional techniques
By comparison, traditional surgical methods for partial knee replacement use mechanical cutting guides that help guide a saw blade as it removes the bone necessary to place the implant. The NAVIO Surgical System helps tailor your partial knee replacement procedure.
Important safety notes
Individual results of joint replacement vary. Implants are intended to relieve knee pain and improve function, but may not produce the same feel or function as your original knee. There are potential risks with knee replacement surgery such as loosening, wear and infection that may result in the need for additional surgery. Patients should not perform high impact activities such as running and jumping unless their surgeon tells them that the bone has healed and these activities are acceptable. Early device failure, breakage or loosening may occur if a surgeon's limitations on activity level are not followed.
Disclaimer
Individual results may vary. There are risks associated with any surgical procedure including NAVIO-enabled Knee Replacement. NAVIO is not for everyone. Children, pregnant women, patients who have mental or neuromuscular disorders that do not allow control of the knee joint, morbidly obese patients, or any other patients contraindicated for UKR, PFA, or TKA should not undergo a NAVIO procedure. Consult your physician for details to determine if NAVIO is right for you.
References
Willis-Owen, Charles, et al, Unicondylar knee arthroplasty in the UK National Health Service: An analysis of candidacy, outcome and cost efficacy, The Knee 16, 473-478, //www.academia.edu/22765713, January 3, 2009
Liddle, A.D., Pandit, H., Et al, Optimal Usage of Unicompartmental Knee Arthroplasty, The Bone & Joint Journal, //www.bjj.boneandjoint.org.uk/content/97-B/11/1506, November 3, 2015
Lonner, Jess, Moretti, Vince, "The Evolution of Image-Free Robotic Assistance in Unicompartmental Knee Arthroplasty." The American Journal of Orthopedics, May/June 2016, 249-254. Accessed June 7, 2016
Ponzio DY, Lonner JH, Preoperative Mapping in Unicompartmental Knee Arthroplasty Using Computed Tomography Scans Is Associated with Radiation Exposure a..., J Arthroplasty (2014)
Collier, Matthew, et al., "Patient, Implant, and Alignment Factors Associated With Revision of Medial Compartment Unicondylar Arthroplasty.", Jour of Arthro, Vol 21 No 6, Suppl. 2, 2006
Hernigou, Ph, Deschamps, G., "Alignment Influences Wear in the Knee after Medial Unicompartmental Arthroplasty.", Clin Orthop Relat Res., Volume 423, June 2004, pp 161-165
All information provided on this website is for information purposes only. Every patient's case is unique and each patient should follow his or her doctor's specific instructions. Please discuss nutrition, medication and treatment options with your doctor to make sure you are getting the proper care for your particular situation. If you are seeking this information in an emergency situation, please call 911 and seek emergency help.
All materials copyright © 2020 Smith & Nephew, All Rights Reserved.
From Our Blog
News, tips and resources