Over 325 outpatient procedures are completed each month at the OrthoUnited surgical center by Ohio Specialty Surgical Suites (OS3). That's an average of 80 procedures per week! Our surgical center was completed and open for business in 2013, and our first surgery in the facility was in 2014. Since then we have performed 20,000 procedures in our state-of-the-art outpatient facility—thanks to our 12 talented surgeons and wonderful community.
We are so proud to have reached this point and want to sincerely thank each and every one of our patients. We owe our success to the Northeast Ohio community who has so graciously trusted us with their orthopaedic health and wellness. THANK YOU for letting us help you get back to living your best life!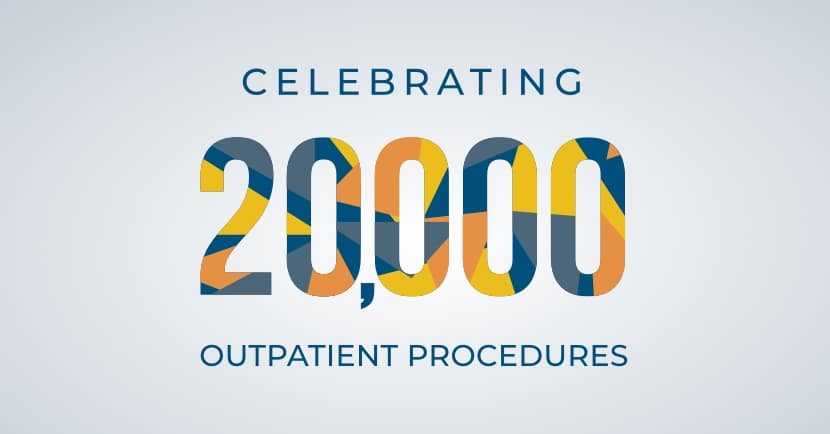 Types of Procedures That Make up the 20,000 Successful Procedures
With board-certified surgeons and convenient ancillary services on site, including MRI, a surgery center, physical therapy, occupational therapy, and hand therapy, OrthoUnited has all the resources necessary to treat your injury or condition and help you navigate the road to a full recovery. We offer the following types of orthopaedic surgery:
About Our State-of-the-Art Surgical Center
OrthoUnited offers an in-house surgical centers for our patients who require outpatient orthopaedic surgery. Operated by Ohio Specialty Surgical Suites (OS3), we provide an innovative, ambulatory orthopaedic surgery facility that promotes patient comfort and healing every step of the way.
Our 9,979 square foot facility boasts two operating rooms, one procedure room, and eight clean and comfortable patient bays. Despite the nation's continued battle with the COVID-19 pandemic, we remain committed to your wellbeing and believe that any time is the right time to start on the path toward healing and living a pain-free life.
At this time, we are taking extra precautions at our facility to keep patients and staff safe. Precautions include practicing social distancing, requiring masks, screening staff and patients, and more. Please contact us with questions or to schedule a consultation!
Meet Our Extensively Trained Orthopaedic Surgeons
Reaching 20,000 procedures is a true accomplishment for any practice, but it wouldn't have been possible without our team of highly skilled surgeons—each bringing knowledge and experience in their own specialties. Whether you're experiencing recurring neck pain or know that you need total joint replacement surgery, our doctors can help get you back to living your best life.
What Our Customers Are Saying
"Top shelf services. Traveled over an hour one way based on a reference from a friend. Worth every minute. Great Doctors and staff."
—Chuck C.
"OrthoUnited was extremely accommodating. The procedure was explained before the surgery, and after, the staff explained what had been done. They let me know what I also needed to do to help me to recover in the best way. I wouldn't have had better care anywhere else."
—Rebecca F.
Schedule a Consultation and Take the Next Step Toward Living Your Best Life
Experiencing pain? Wondering if surgery is right for you? Meet with one of our board-certified orthopaedic doctors to determine the right course of treatment to help your pain. Contact us today to request a consultation!